The BodyGem and MedGem are both indirect calorimeters, that determine RMR – Resting Metabolic Rate, to help clients optimize their weight loss results.
Instead of estimating RMR, the BodyGem and MedGem scientifically measure a clients Metabolic Fingerprint, that is unique to them.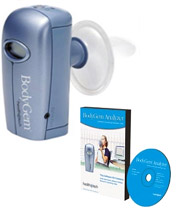 The BodyGem is designed for Personal Trainers, fitness facilities and Dietitians who don't make insurance claims for their services.
The BodyGem displays RMR readings and works with the BodyGem Analyzer companion software.
The BodyGem System is a lower priced option, because it has no associated FDA-approval costs, so it helps you increase your profitability.
I specialize in helping Personal Trainers, fitness facilities and Dietitians, get a BodyGem to help optimize client weight management results and to increase profits.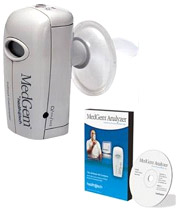 The MedGem can only be sold to licensed clinicians because it is a  FDA-approval medical device.
The MedGem displays RMR and Resting Vo2 readings (for patient diagnosis, not Max VO2 testing)
Bariatric Doctors, Dietitians and other licensed clinicians may be able to make insurance claims using designated CPT codes.
Contact me to see if the MedGem or the BodyGem indirect calorimeter is the best fit for your needs.
To get more information:
Call me directly at 720-431-1461
Or leave a voicemail at 1-866-285-8296 and I'll call you back
I wish you the best of health!
David Wilcoxson