The BodyGem indirect calorimeter system can determine metabolic rate for your client in 5-10 minutes. Metabolic testing provides a precise measurement of your clients RMR, which can account for up to 75% of their total calorie needs.
Metabolism testing is superior to estimation equations, such as the Harris-Benedict formula and Katch-McArdle formula.
Scientifically based metabolic rate weight loss empowers your clients to greater weight management success. Metabolic testing increases your revenue.
CLICK HERE FOR A ONE-PAGE BODYGEM INFORMATION PRICING SHEET PDF.
Your clients look to you for success
Their goals are as diverse as their needs. You know each of them needs a unique solution to reach their goals, but how do you profitably and conveniently provide it?
Introduce your clients to their Metabolic Fingerprint™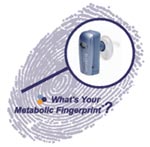 An accurate Metabolic Fingerprint (RMR) measurement provides the definitive answer when creating a personal program for each of your clients.
This means that whether you're working with a client to lose weight, build strength, or complete their first fitness event, the plan you prepare will be based on their needs and deliver the results they are looking for.
The BodyGem handheld calorimeter is a portable and profitable tool that gives you an accurate Metabolism Rate Test result in 10 minutes or less.
Simple

– To measure metabolic rate, your client simply breathes into the indirect calorimeter, which measures their oxygen consumption (VO2), the resulting RMR number is clearly displayed on the device's LCD screen.


Accurate

– It has been validated against the gold standard Douglas Bag, and other commonly used metabolic carts

(2,3,4)




Convenient

– It comes with a lightweight carrying case and is very portable, which lets you provide metabolic testing anywhere.


Profitable

– Providing metabolic testing helps you generate additional revenue, as the average measurement provider charges between $50-$75 for the metabolism test.
"The ability to quickly and accurately measure metabolism with BodyGem, gets peoples attention. No more guessing about how much you should be eating – it's right there in front of you." – David Dansereau, Owner of One Body Health
Offering BodyGem metabolic testing benefits your clients by:
Showing them their scientific metabolic rate reinforces that in order to lose weight, they need to feed their body, not starve it.

Teaching them to work with their body, not against it, will give them long-lasting results.
And when they get results, they begin an upward path of success, which changes their outlook on exercise and nutrition.

It helps them avoid plateaus

, as frequent testing allows them to adjust their caloric intake and eat the right amount of calories to meet their goals.
Offering BodyGem metabolic testing benefits you:
When clients get results, they tend to stick with their programs and renew their contracts.

They talk about their results

– and your studio! – leading to a dynamic referral business.
It helps you avoid cyclical changes due to seasonal and economic influences.

BodyGem metabolism testing sets you apart from the competition

, as the more services you provide your clients, the greater the resource you can be for their health and wellness needs.
There isn't a simpler, more accurate or profitable way to tailor each client's program for ultimate success.
Microlife ensures your success by providing the best aftermarket support in the industry and a 2-year warranty on the BodyGem System Kit.
Microlife's BodyGem products come with a an implementation binder, marketing and promotional materials, 1-800 customer support, and online training.
We offer two types of System Kits to meet your needs:
The BodyGem System Kit is $2,799. It includes:

♦ Body Gem indirect calorimeter with a 2-year warranty
♦ One 21-pack mouthpiece filters and nose clips
♦ BodyGem Analyzer software for Windows
♦ A lightweight carrying case
♦ A marketing materials kit with trifold brochures
When you purchase additional BodyGem System Kits, we offer a reduced price of $2,520.
The BodyGem System Kit is the best long-term system for people who will provide a lot of measurements, because it has the lowest per-use cost.
Additional 21-packs of Mouthpiece Filters and Nose Clips are $299.
When you purchase two 21-packs, you get one 21-pack for FREE.
You can extend the BodyGem System Kit two-year warranty to three years for $225.
If you have a problem with the device after the warranty has expired, you can get it evaluated and recalibrated in our repair facility for $99 plus return shipping costs.
---
.
The BodyGem Starter System Kit is $899. It includes everything you need to administer forty measurements.

♦ BodyGem indirect calorimeter that's setup for 40 measurements
♦ BodyGem Analyzer software for Windows
♦ 42 mouthpiece filters and nose clips
♦ A lightweight carrying case for Windows
♦ A marketing materials kit with trifold brochures.
It uses the same BodyGem device, but is programmed to complete only forty measurements, which allows us to offer it at a lower price point.
The BodyGem Starter Kit is a great entry level system if you have low volume or don't have the budget to purchase the regular System Kit.
When your forty measurements are complete you can send your device to us to get it reprogrammed for 40 more measurements and sent back with 42 filters for $799, to continue testing. You'll need an RMA number for this service, so that we can track it properly.
Or if you decide to upgrade to the regular BodyGem device, we offer it at a discounted price of $2,520.
---
The BodyGem Analyzer software is a Windows-based program. To run it on a Mac computer, you can use the Boot Camp utility or Parallels software.
---
Personal trainers typically charge between $50-70 for a RMR measurement, so the BodyGem Starter Kit allows you to generate between $2,000 – $2,800 in revenue.
To get more information on the BodyGem indirect calorimeter system:
Call me directly at 720-431-1461
Or send me an Email
I wish you the best of health!
David Wilcoxson

Save
Save
Save