BodyGem comparison to the Korr MetaCheck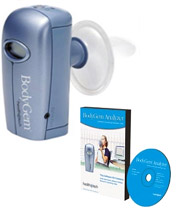 This page will compare the Microlife BodyGem indirect calorimeter with the Korr MetaCheck™
Both indirect calorimetry units measure RMR – Resting Metabolic Rate / BMR – Basal Metabolic Rate
Let's start with validation. Both indirect calorimeter devices have been validated against the gold standards of the metabolic rate testing, the Douglas Bag and the DeltraTrac Medical Cart, and have similar accuracy.
Dr. Robert Huizenga, Associate Professor of Clinical Medicine at UCLA and Medical Advisor to The Biggest Loser said "We chose to use the Microlife device based on its accuracy in comparison to other indirect calorimeters."
Cooper Fitness Center at world renowned Cooper Aerobics uses the BodyGem device.
Portability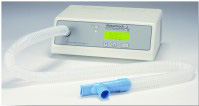 The Korr MetaCheck is a box-type design and it sits on a desktop.  A carrying case is $349.
The BodyGem is a compact, hand-held design, and it comes with a lightweight carrying case to allow you to perform RMR measurements anywhere.
Client Measurement Report Printing
The Korr Metacheck is designed to be used with their paper, so you can't use regular paper.  The suggested portable printer is $249.
BodyGem Analyzer software is loaded on your computer and can print the 3-page client measurement summary report from any printer. No special paper is needed. And you can email the report to your client in PDF format.

Device Sensors
The Korr MetaCheck has a 1 year warranty and the sensors must be replaced every year
at a cost of $225.  An addition year warranty is $495.
The BodyGem has 2 year warranty and NO maintenance. It self-calibrates before each measurement to compensate for barometric pressure, temperature, and humidity; and it performs a self-test of the sensors. An additional year warranty is available for $195.

In the event of an internal error, if the unit is under warranty, we ship out a replacement device.  If it's past the 2-year warranty, we offer a $99 evaluation and recalibration service.

Analyzer Software
The Korr Metacheck does not include software to easily customize your clients weight loss Daily Calorie Budget plan.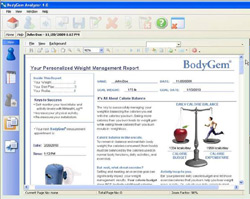 The BodyGem System comes with BodyGem Analyzer software which allows you to create a customized Daily Calorie Budget plan for clients. 
RMR accounts for 65-75% of a clients daily calorie burn, depending on their activity level.
The Analyzer software lets you account for variables that affect their daily calorie burn, such as work activity level, number of hours at work, number of sleeping hours, etc.
You can set a weight goal based on pound(s) per week or for a certain date.  The Analyzer report provides them with a recommended Daily Calorie Budget, based on their
RMR + lifestyle – weight goal.
It lets you customize the ratio of protein, carbohydrates and fats, so that they know how many grams of each to consume every day.
It also lets you keep a client record of measurements, to track their progress and changes in their Resting Metabolic Rate.
Filtration
The Korr Bacteria Filter is in the device, so it doesn't get changed with each client and it's only replaced every 100 usages.
The BodyGem medical-grade filters are integrated into the disposable mouthpieces, so that each client breathes through a NEW filter.
Client Comfort
The Metacheck uses an oval-shaped mouthpiece, which forces the client to maintain a tight seal.  Having your mouth around the oval mouthpiece can make it difficult for your clients to swallow, which can lead to drooling.
BodyGem mouthpiece filters have a bite-wing design, which allows the client to easily maintain a tight seal and swallow normally.
Mouthpiece Pricing
A 20-pack of mouthpiece breathers is $199, so they are $9.95 each. The bacteria filter, which is changed every 100 uses, is $13.
BodyGem mouthpieces with integrated medical-grade filters are available for $9.50 each.  The bite-wing design and integrated filter are superior in design, than the Korr mouthpieces.

Device Pricing
The regular BodyGem System Kit is $700 less than the Korr MetaCheck System, and we have per-use, lease-type BodyGem System Kits that allow you to get started with a BodyGem System for 1/4th of the Korr MetaCheck System price.

BodyGem Marketing
We offer free customizable marketing fliers to help you make people aware of the need to get their RMR tested.  They are great for your front desk and at health fairs.

BodyGem owners can get listed on our nationwide database, so that people in your area can find you to get measured. More and more people are learning that they can get their RMR measured from The Biggest Loser TV show.

To get more information:
Review the BodyGem System information
Review the BodyGem System Kit options
Call me directly at 720-431-1461
Or leave a voicemail at 1-866-285-8296 and I'll call you back
I wish you the best of health!
David Wilcoxson
Korr and MetaCheck are registered trademarks of Korr Medical Technologies, Inc.